PROGRAM CONCERT SERIES – PRIMAVERA CHIGIANA

In 2019, the Accademia Chigiana has created the special concert series "Primavera Chigiana" as a container for the concerts of the C-GAP program. The series will kick-off at the end of the first week of the program with the Opening Concert by the Takàcs Quartet, Friday May 24th at 9pm at Palazzo Chigi Saracini.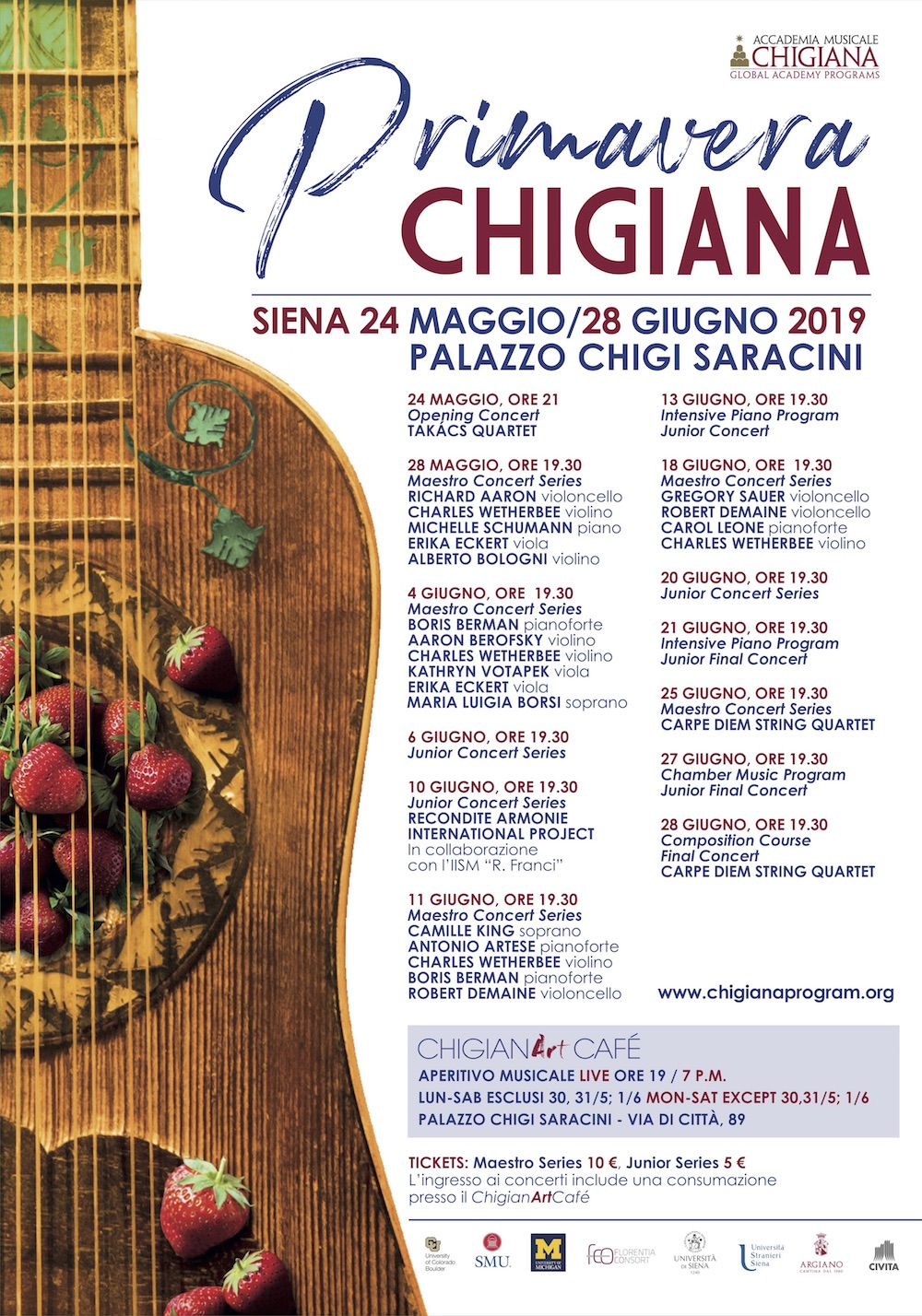 SUMMER 2019

The deadline for undergraduate students to apply to the 6-week SIENA INTERNATIONAL MUSIC PROGRAM has passed.
The deadline for graduate students to apply to the 3-week PIANO INTENSIVE PROGRAM has passed.
Applications for the 3-week COMPOSITION PROGRAM are closed.
ACCADEMIA CHIGIANA:
where the students meet the masters.
The CHIGIANA GLOBAL ACADEMY PROGRAMS seek to expand and integrate the artistic and educational activities of the Summer Academy and the Festival in existence since 1932.
They give young talented musicians – at the college and university level – the opportunity to study abroad with great masters and perform extensively in Italy.
The ideal participants, soloists or chamber musicians, are open minded students who are seeking to take a transformative and challenging role as artists in the 21st Century.
"The program provided me with some of the most incredible opportunities and challenged me as musician and as an individual each day."

– Jade E., 2016
"You truly made our stay here great, and the opportunities you have given us are beyond what we could have imagined. This is a summer I will never forget!"

– Amelia J., 2015
"Masterclasses were wonderful and the teaching staff was fantastic."

E.C., Student 2018